Call the show at 1-888-MONEY-PIT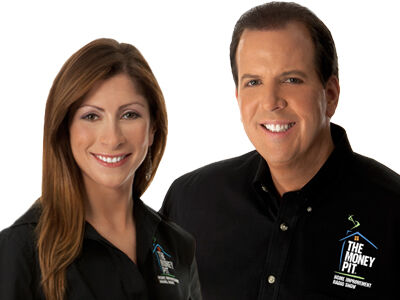 The Money Pit is a lively call-in show that is entertaining and informative, delivering a wide variety of solution-based expert home improvement and home décor advice.
Tom Kraeutler is the Host, Founder and Chief Home Improvement Evangelist of The Money Pit. He is a hands-on home improvement broadcast journalist and the kind of guy homeowners want to call at midnight when their basement floods. He first earned his home improvement stripes as a professional home inspector, amassing over 20 years experience learning how houses are put together, and how they fall apart!
Leslie Segrete is co-host of The Money Pit. She's a home improvement expert with an eye for design and the skills to get the job done. She knows what turns a house into a home and has the tips and ideas to make improvements easy and fun.
Show Links:
---
The Money Pit is a nationally syndicated, call-in radio show that helps listeners with their home repair and improvement problems. The show has consistently been named among "America's 100 Most Important Radio Shows" by Talkers magazine. It's been on the air for over ten years, and is now carried on over 300 radio affiliates across the nation, as well as on iHeart radio.
Each week, Tom and Leslie take dozens of calls from listeners who ask about everything from pest problems to deck dilemmas. Their combined experience and expertise allow them to offer solutions to a wide range of problems immediately. If they aren't sure how to help, which is rare, they can always point callers in the right direction. Call us at 1-888-MONEY PIT or post your question in our home improvement community. Our call center is manned by a live person 24-hours a day, seven days a week.